I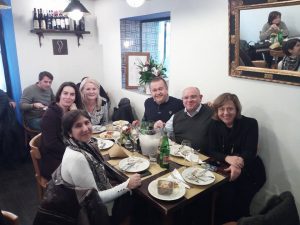 t is with the utmost sadness that we announce that on August 23rd, Mathilda van Niekerk passed away. She was Associate Professor in the Tourism, Events and Attraction (TEA) Department at the Rosen College of Hospitality Management, University of Central Florida, USA.
We met her in 2014 when she supported IRISS in the organization of "The t-FORUM 2015 Global Conference: Tourism Intelligence in Action", held in Naples. On that occasion we appreciated her great competence, professionalism and generosity in transferring their skills to the other colleagues.
Since then, with Prof. Fevzi Okumus, she has become an important interlocutor for researchers involved in tourism and also for those interested in other research areas. We will miss her incredible enthusiasm, which she never lost even in the worst moment of her illness.  Her special character let us fast transform the professional relationship, with some of us in particular, into a sincere and deep friendship.
We greeted her last time in May in Orlando.
We will miss Mathilda so much and she will always stay with us.