Scientific Coordinator
Objectives and contents
Due to the degradation of the natural environment, climate change and global warming, environmental sustainability has emerged as one of the most critical areas in the management of modern companies.
Freight transport and logistics have a relevant impact on the environment and therefore "green logistics" is one of the most important leverage to manage the supply chain in a sustainable way. However, in Italy the approach to sustainable logistics is not widespread. This is what emerged from research conducted by CNR-IRISS in recent years, which documents the low adoption of sustainability programmes by Italian logistics and freight transport companies.
Faced with this scenario, the "Laboratory on Green Logistics" of the CNR-IRISS began operating in 2020. Its main purpose is to develop research activities on environmental sustainability in freight transport and logistics in order to spread the culture of sustainability in the sector and help companies to develop strategies and actions to counteract the effects of climate change.
The specific objectives of the Laboratory are: i) to raise the awareness of businesses and key stakeholders about the impact of climate change on freight transport, logistics and the supply chain; ii) to collect and disseminate data on sustainable logistics in Italy in order to provide analysis and research on key issues; iii) to provide solutions to companies facing the challenges of sustainable logistics; and iv) to contribute to the definition of policies aimed at reducing the environmental impact of logistics and freight transport.
The Laboratory is active in three main activities:
Research: to analyse the phenomenon of sustainable logistics in Italy and to identify "best practices" to be transferred to businesses;
Business services: to produce studies on the de-carbonisation of business activities, to identify the most suitable actions to reduce their environmental impact, help companies to implement strategies to de-carbonise their products/services;
Training: to offer businesses and organisations training programmes to update staff skills and/or acquire new skills in the field of sustainable logistics and fighting climate change.
The main research activities in progress are summarised in the following graph.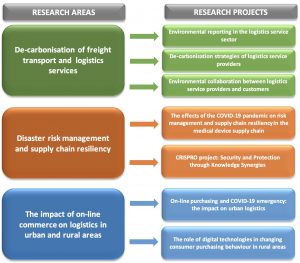 Research Group IRISS
Martina Bosone Gabriella Esposito Alessandra Mancino Vincenzo Smiglio
Collaborations
Lappeenranta University of Technology – LUT (Finland), Wroclaw University of Economics (Poland), Linköping University – Division of Logistics Management (Sweden), Aston University (UK), Scuola Universitaria Superiore Sant'Anna di Pisa, Politecnico di Milano – School of Management
Featured scientific publications
Duration
Start 2019 | End 2023
Amount and source of financing
Progetto interno
Administrative reference
DUS DUS.AD010.082
Administrative manager
-