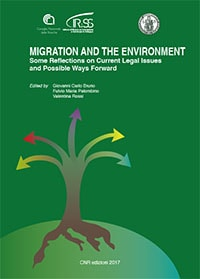 Mercoledì 16 maggio, nella Sala Petrillo del CNR IRISS, presentazione del volume: "Migration and the Environment. Some Reflections on Current Legal Issues and Possible Ways Forward"
a cura di Giovanni Carlo Bruno del CNR IRISS, Fulvio Maria Palombino, Valentina Rossi del CNR IRISS.
Ne discutono con i curatori: Fabio Amato (Università degli Studi di Napoli L'Orientale) e Anna Papa (Università degli Studi di Napoli Parthenope).
Il testo è disponibile a questo link:
https://www.iriss.cnr.it/wpcontent/uploads/2018/02/Migration_and_the_Environment_2017.pdf).
Per informazioni: v.rossi@iriss.cnr.it; gc.bruno@iriss.cnr.it